In case you were thinking that food in the United States couldn't possibly be less healthy, McDonald's is on the scene to prove you wrong. CNN reports that McDonald's restaurants in the United States put petroleum products in their popular chicken McNuggets. That's right, Texas Tea in your McNuggets!
"
CNN has revealed that the fast-food chain makes this popular menu item with the chemical preservative tBHQ, tertiary butylhydroquinone, a petroleum-based product. McNuggets also contain dimethylpolysiloxane, an anti-foaming agent also used in Silly Putty.
"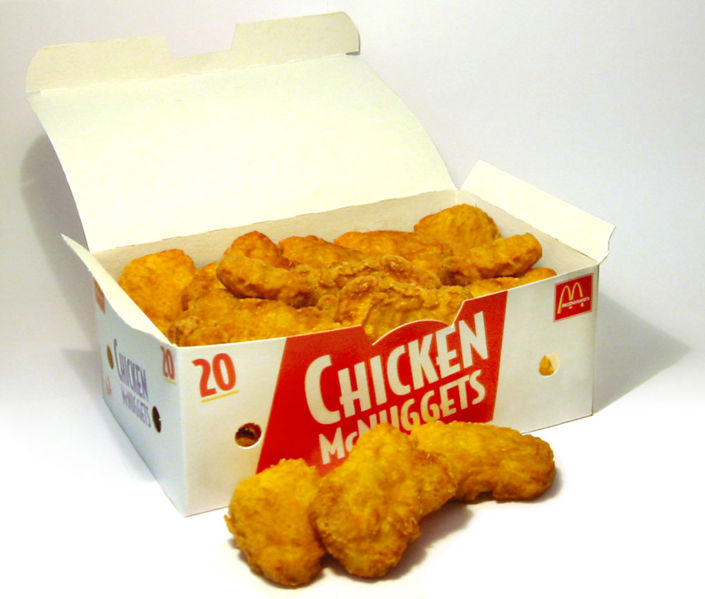 Yep, the same stuff they put in Silly Putty. But eating a little
Silly Putty
never hurt anyone, right?
Apparently Mickey D's only puts these petroleum products in McNuggets in the United States.
"McDonald's says the differences are based on the local tastes: In the United States, McNuggets are coated and then cooked, in the United Kingdom, they are cooked and then coated. As a result, the British McNuggets absorb less oil and have less fat.
Dimethylpolysiloxane is used as a matter of safety to keep the oil from foaming, [Lisa McComb, who handles global media relations for McDonald's,] says. The chemical is a form of silicone also used in cosmetics and Silly Putty. A review of animal studies by The World Health Organization found no adverse health effects associated with dimethylpolysiloxane.
TBHQ is a preservative for vegetable oils and animal fats, limited to .02 percent of the oil in the nugget. One gram (one-thirtieth of an ounce) can cause "nausea, vomiting, ringing in the ears, delirium, a sense of suffocation, and collapse," according to "A Consumer's Dictionary of Food Additives."
Aren't you glad you live in the U.S.!