Miss Haiti 2010 Sarodj Bertin, 24, will be the first Haitian woman to compete in the Miss Universe pageant in 22 years. She was crowned Miss Haiti 2010 this past May in
Port-au-Prince
. Which is amazing considering Haiti was in the middle of a horrific crisis at that time, as it still is.
Ms. Bertin is a very accomplished and interesting person. She's either a lawyer or studying to be one, there are conflicting reports on that. She speaks French, Spanish, English and Creole, and is learning Mandarin.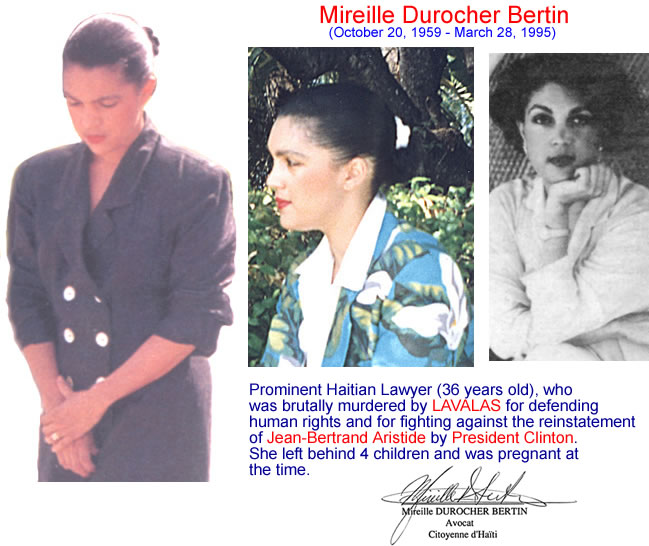 She comes from an interesting family as well. Her mother who was a lawyer,
Mireille Durocher Bertin, was assassinated in Haiti
in 1995 after announcing she was founding a political party. So this involves some political intrigue as well.
After her mothers assassination, Sarodj was 9 years-old at the time, the family moved from the Haitian side of the island of Hispaniola to the other side which is the
Dominican Republic
. Which is where she grew up.
There is a lot going on here. First, I can't help notice the
colorism
aspect of Ms. Bertin's Miss Haiti win.
Haiti has a long history of colorism
. The lighter the complexion of a Haitian the more likely they are to be of the upper or ruling class. Also considering that the vast majority of Haitian woman are of a darker complexion than Ms. Bertin, one might wonder what her win says about skin politics in Haiti at the moment.
Second, it's hard to ignore the political aspect of this. It is especially interesting that Bill Clinton and Ms. Bertin's mother had a history considering Bill Clinton is now very involved in the rebuilding of Haiti after the quake.
Third, I wonder how the Haitian people feel about all of the ex-patriots being on the scene these days. First there was
Wyclef Jean attempting to run to be the President of Haiti
and now Ms. Bertin, also an ex-patriot from the Dominican Republic, winning Miss Haiti.
Anyway, it will be interesting to see how this plays with the Haitian people. And if Miss Haiti should happen to win Miss Universe this story is going to take on a life of its own.
The Miss Universe contest will air
tonight on NBC at 9pm eastern and pacific/ 8pm central
.